Email is a very important part of our lives today. A lot of things have changed with email clients today. Not only have they become user friendly but offer users a wide range of choice when it comes to integrating various other features into an email program. An email client is a downloadable program that manages web based email on the user's computer. Free email clients have gotten better and better with time and it seems absurd that anyone would still pay for email services. Today it is very simple to set up an email account for free and most programs and clients offer plenty of storage space as well as features. Let us look at some of the best email clients on offer today.
10. Sylpheed
Sylpheed is a cross platform email client that is very easy to use and offers a multitude of features. It allows users access to IMAP and POP accounts and is fairly secure as it supports TLS/SSL security features along with encryption options. It has international language support and also supports Unicode which is used almost globally. The major drawback of using Sylpheed is that it does not support HTML formatting.
9. Alpine
Alpine is a console based email program that is known to handle daunting tasks with the greatest of ease. It is a quick and efficient client that runs on multiple platforms including Windows and Linux. It supports POP, IMAP as well as Unix mailboxes which lets users handle the emails very productively. One major drawback of using Alpine however is that it is not integrated with OpenGP security. It is also a little complicated to set up on POP accounts and most users may face some trouble setting it up.
8. Eudora
Eudora is a free email client that supports Windows and Mac platforms. It is a highly acclaimed client known best for its highly customizable features which offer users many options however it is not the easiest email client to use and does not have a spam filter which can cause major issues to people who get a lot of mails.
7. Foxmail
Foxmail is an extremely versatile email client that is also very easy to use. It has more than 5 million users worldwide and is fun to use too. It can manage multiple email accounts for multiple users and also integrates popular webmail services like hotmail and gmail with remote mailbox features. The latest version of this client also has IMAP support which adds to the already impressive arsenal that this email client brings to your desktop.
6. Pegasus Mail
Kicked off in 1991 it is one of the oldest surviving free email clients available today. It is one of the most complete email clients available in the markets today and is also known to be a powerful program. Many of its past users have complained that it does not look very good but if looks are not the primary thing then Pegasus Mail is one of the best clients out there.
5. Mulberry
Mulberry is a cross platform email client that is best known for its versatility and efficiency. It is also highly secure which makes it a good choice for people with confidential emails. It supports POP and IMAP accounts locally and from servers however it is known to be a little complicated to use and is also a little slow as compared to some other programs. It also does not have a spam filter which can make managing emails a pain.
4. IncrediMail
IncrediMail is a user friendly and fun email client that also offers a lot of multimedia content along with email. It is extremely manageable and has great search features and email folder options. It lets a user choose who to receive email from and who not to receive mail from. It has limited IMAP support which can cause problems to a lot of users but overall it is an extremely well equipped email program that has a lot of extras to offer too.
3. Opera M2 Mail Client
A highly under-rated email client, the Opera M2 is a highly versatile program that is very easy to set up and use. It offers many extra features along with email and is great with managing contacts. One of the easiest clients to use, not many people is aware of the great features of this email client.
2. DreamMail
This simple looking mail client surprises many of its users with its amazing versatility. It supports POP, IMAP and Webmail accounts with the greatest of ease and is also very simple to look at. The remote mailbox management feature stands out as one of the best features that DreamMail has to offer. It can support multiple user accounts and has password protection enabled for multiple accounts too. It is not as portable as some other clients despite its easy interface and setup.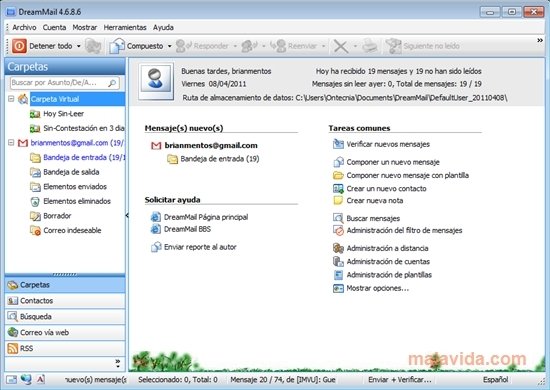 1. Mozilla Thnderbird
Thunderbird as it is popularly known to its users is a very comprehensive email client that has features that put many a paid email service to shame. Its Bayesian filtering helps users detect not just spam but also scams in the emails; it also has many smart features for searching and organizing mails. All in all it is one of the most complete email clients that also let users integrate a host of other web based operations. It supports Windows, Linux and Mac platforms which is also one of its biggest assets.