Social media not being there doesn't mean people in history didn't do anything worth going viral. These 15 photographs will make you feel that we have missed some of the greatest cultural, political and intellectual moments of that time.
1. Salvador Dali walking his pet anteater, 1969
People believed that this anteater was Dali's pet because he was famous for having eccentric pets but later the news was found to be false. The exotic pet he had was an ocelot (a kind of wild cat) named Babou which was taken by him everywhere.
2. Smoke break during the construction of the RCA building in 1932
The building was called the Radio Corporation of America from 1933 to 1988 as it forms the center piece of the Rockefeller Center in Manhattan. The building's formal address is 30 Rockefeller Center as it acquired cult status when the sitcom 30 Rock was set here. The building was later named the GE building.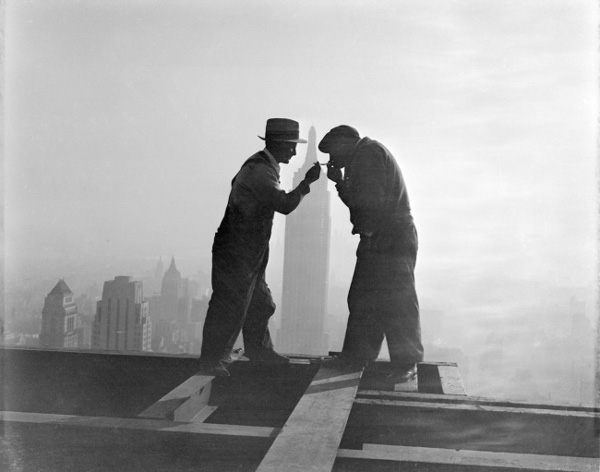 3. Ernest Hemingway after one of his parties
He lived his life in excess.
4. Nikola Tesla in his laboratory
This photograph was taken when the world didn't know about the influence he was going to make.
5. The seal on the doors of the tomb of Tutankhamen, 1922
It had remained intact for an incredible 3,245 years.
6. Dior models walking the streets of Moscow, 1956
This was the very first time the country's streets got glorified by western luxury labels and clothings.
7. Women protest against the forced wearing of the hijab in Iran
This was after the Islamic Revolution, 1979.
8. Coca-Cola arrives in France, 1950
Also See
Top Most Characters of Mahabharata
9. Audrey Hepburn shopping with her pet fawn, Beverly Hills, 1958
Why are we not allowed to take our pets along?
10. George Lucas and Steven Spielberg playing with water pistols, Sri Lanka, 1983
11. A Frenchman gives a light to Winston Churchill, 1944
Brave indeed!
12. Alfred Hitchcock playing with his grandchildren, 1960.
Such an awesome timing for the click!
13. Osama bin Laden on vacation with his family, Sweden, 1970
Small family, happy family. LOL
14. A five-megabyte hard drive is shipped by IBM, 1956
And our phones now effortlessly provide 128 GB memory space (1000 MB = 1 GB).
15. The last photo of the Titanic before it sank, 1912
Creepy.