As she was leaving for her studies abroad, her mom paced anxiously. In a moment of awkwardness and sternness, she quipped, "Don't do anything which brings a shame to your family."
Sonal asked, "Do what?"
Her mom shrugged and said "YOU KNOW WHAT!"
Aren't these the only words parents use in India when they want to talk about anything remotely related to sex?
The first context of our NCERT biological chapter has described vital human needs as food, thirst and sex.
Yet: "Mom, where do babies come from?"
Oh, did you ask this forbidden question at 8 or 10 or 12?
No, I won't even ask if you got your answer right there because I know you did not. "Babies are God's gift to good parents." "Babies are found in magical caves." "Babies are brought from temples."
Okay, curse me but I actually considered all these to be true!
You don't believe me?
Watch this hilarious video by iiSuperwomanii which perfectly explains sweaty, stressed out Indian parents' situation.
I understand. Our parents come from a time when they had little or no sneaky exposure to the enticing sex world. No porn, no internet, no shy glimpses from Hindi movies. The word had been taboo since long.
But when I was growing up, I watched Saif-Preity dancing behind the bushes in 'Kya Kehna' and the next thing we knew Preity Zinta was pregnant!
"What happened, mom?"
Also See
Top Most Characters of Mahabharata
And then this is what our school lunch break discussions were about. Oh, we really thought that!
Half-baked insights, hushed tones and rounds of Chinese Whisper never gave any of us the answer. Even when our Science teacher taught us, there were more giggles and less information.
I am not saying that parents come to us one fine day and they do 'The Talk'.
But think about it. The only time parents are appalled by it is when they get to know their teenage daughter has a boyfriend or worse, is pregnant.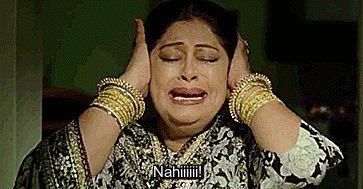 Why didn't they ever tell her about these things before?
I can't blame the baby boomers much when our very own Gen X (who are in their 30s probably) puts up, "The kids know it, no?"
Through what? Watching porn? Random Internet forums? Friends?
The average rate at which people start experimenting is falling down. Marriageable age is scaling up. Marriage is in fact, no more, a pre-requisite to have sex. The downside is that they are more exposed but less aware.
It's sweet curiosity and buzzing peer pressure that is asking parents to do something. We all believe that our parents just know it. Do they? And do they really think ignorance is bliss?
What I am asking here is to be comfortable with the idea and the very word. Let's help our kids grow with these words buzzing around and letting them know how it is absolutely a normal phenomenon.
Dear Parents,

You are creating a hype around it, which fortunately or unfortunately, is making it all the more enticing. If not enticing, it alternatively becomes scary or gory. Religious attributions to it can sometimes make people feel 'impure'. Sadly, due to lack of such conversations, you are leaving out the part where it could go wrong. No awareness about mutual consent, good touch-bad touch, teenage pregnancy or even sexual transmitted diseases are the consequences of these left-out conversations. You know what's worse? You have made us feel afraid about it.
Parents, it's time you become their friends.
Going clubbing with them or wearing skirts like them won't make you their friends. Talking to them about their lives, friends, love and SEX will.