Assembly elections in five states, Punjab, Uttarakhand, Manipur and Goa, and the country's most politically important one, Uttar Pradesh, will take place in February and March, with the results being declared on March 11, the Election Commission of India (ECI) has announced.
But this time the assembly elections will be different. Here's how:
Colorful voter guides
Election Commission has issued colourful voter guides
It will contain the dates and time for elections
Dos and Don'ts guide for voters at all polling stations
Election Commission will use social media
Posters informing voters of locations of booths
Candidate photo on EVMs
The ballot on the electronic voting machines (EVMs) for upcoming elections will have the photos of contestants in addition to their names and symbols.
Height of the voting compartment increased
For secrecy, the height of the voting compartment has been raised to 30 inches. This will help conceal the upper part of the voter's body. This would help to keep it a secret about whom they were voting and which button was being pressed.
Separate polling booth for women
There will be facility for separate polling booth for women. Special arrangements will also be made for Divyangs.
E-postal Ballot system
Also See
Top Most Characters of Mahabharata
In good news for non-resident service voters, it has become easier for them to cast their vote despite being away from their constituency in the upcoming elections. To be used for the first time on a major scale, electronic transmitted postal ballot (ETPB) system will benefit nearly 1.40 lakh service voters—defence and paramilitary personnel posted outside their constituency—of the state. The system was recently tested successfully in a by-election in Puducherry and will replace the postal ballot system in practice till now.
Booth or kiosk set up
A voting assistance booth would also be kept at the polling stations. Booth or kiosk set up by candidates will be included in candidate expenditure. Postal votes will be transmitted one-way in certain constituencies. Moreover, the candidates will also be required to open accounts in banks and expenses above Rs. 20,000 will be made out of this bank account, and made through cheque.
Rules for candidates
The limit for expenses for candidates is Rs 28 lakh for UP, Punjab, Uttarakhand and Rs 20 lakh for Manipur and Goa.
Election Commission to monitor paid news
The EC will monitor paid news with the help of the Press Council of India. As per report, media coverage paid to favour any party or candidate this election will be included in their election expense budget, unlike prior elections where paid news were banned.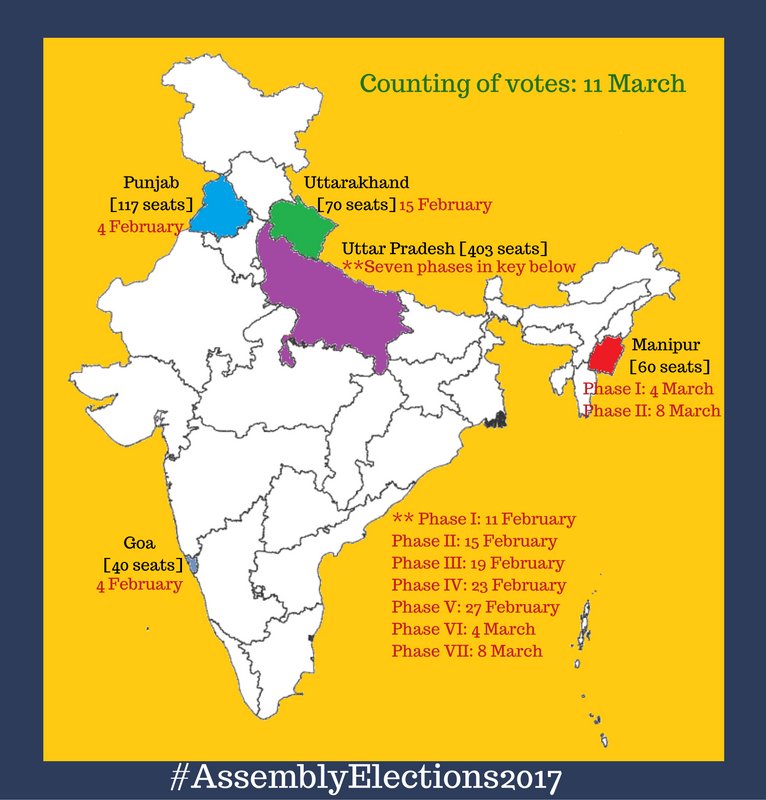 Environment-friendly move
The ECI has discouraged the use of plastic while campaigning is being done as they are hazardous for the environment. Chief Election Commission of India Nasim Zaidi advised political parties to avoid reckless use of loudspeakers and crackers.