The ongoing rift within the ruling party and the Yadav clan, is again out in the open.
This time Uttar Pradesh Chief Minister Akhilesh Yadav has decided to launch his 'Samajwadi Vikas Rath Yatra' from November 3, two days before Mulayam Yadav is to kick off the party's "official" campaign at the SP's 25th anniversary function in Lucknow.
This also means that Akhilesh Yadav would not be available at the silver jubilee function of the party to be held in Lucknow on November 5.
In a letter written to his father, the Uttar Pradesh Chief Minister gave the justification that other political parties have started their political campaign for the 2017 UP Assembly elections. The SP had decided to launch its campaign from October 3, but delayed it due to some reasons.
The letter, addressed to Mulayam, is copied to Shivpal and Ram Gopal.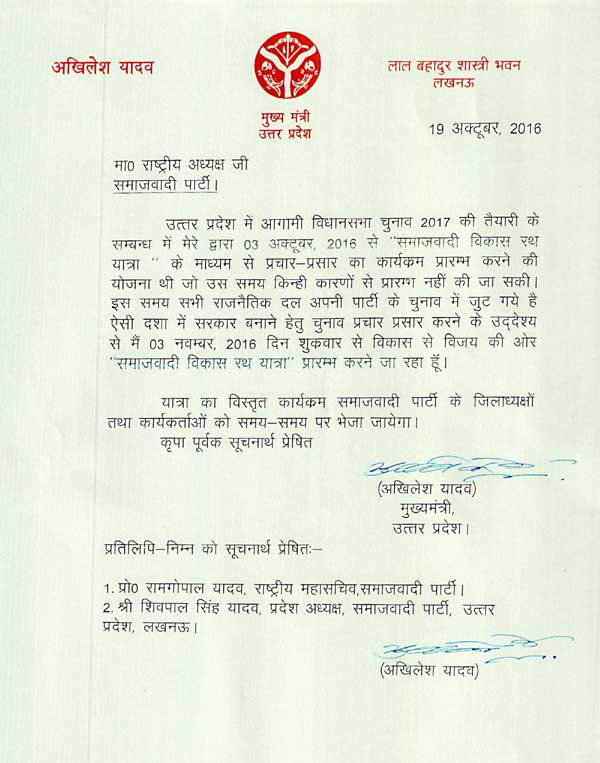 The development comes at a time when efforts are reportedly underway for a patch-up between Mulayam-Shivpal and Akhilesh Yadav.
In the last few months, the political rift between Uttar Pradesh Chief Minister Akhilesh Yadav and his uncle and minister Shivpal Yadav have sent flutters down the power corridors. It is believed Shivpal is not his favourite uncle and he is said to be aligned with Ramgopal Yadav, his father's cousin.
Political pundits feel that the ongoing power struggle in the ruling party will hamper the Yadav family in the 2017 UP polls.
In another development, a section of youth leaders of the Samajwadi Party, considered close to the chief minister, has virtually revolted against party chief, saying they would boycott the silver jubilee celebrations of the party on November 5.
Earlier last week, Mulayam had refrained from declaring his son as the chief ministerial candidate, saying that the decision would be taken by Samajwadi Party's legislature panel after the elections would be concluded. However, he has now endorsed his son Akhilesh Yadav as the presumptive chief ministerial candidate of the party moving into the 2017 Uttar Pradesh assembly elections. By clearing his stance, Mulayam has made an attempt to end the tussle within his family.
The assembly elections in Uttar Pradesh are expected to be held in February-March 2017. Election Commission of India is yet to issue the notification for the polls. A total of 403 assembly segments would be contested.
Discussions